Romilly's HART® and Fieldbus Web Site
---
New HART Technology Booklet
Copyright © Romilly Bowden and Fieldbus Group Inc. 2018.
---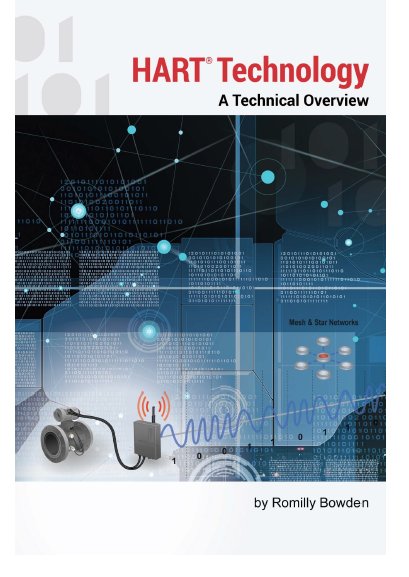 The new edition of my booklet is available at last!
It measures 23 by 15 cm, and has 266 pages. It's very much extended from the last edition, and now covers HART Revision 7, WirelessHART and HART-IP.

Chapters are headed:

INDUSTRIAL COMMUNICATIONS
HART - AN OVERVIEW
THE FSK HART PHYSICAL SIGNAL
FSK HART SYSTEM COMPONENTS
HART MESSAGE STRUCTURE
MESSAGE TRANSACTIONS
DATA
COMMANDS
STATUS INDICATIONS
HOST CONNECTION PROCEDURE
DEVICE FAMILIES
DISCRETE DEVICES
C8PSK HART
WIRELESS HART
WIRELESSHART NETWORK FEATURES
WIRELESS MESSAGE STRUCTURE
WIRELESS KEY PERFORMANCE INDICATORS
HART-IP
DEVICE DESCRIPTIONS
COMPATIBILITY.


Tables are included in the APPENDICES:

HART UNIVERSAL AND COMMON-PRACTICE COMMANDS
HART TABLES
DEVICE FAMILY COMMANDS AND TABLES
DISCRETE DEVICE COMMANDS AND TABLES
WIRELESS COMMANDS
STATUS INDICATIONS
RESPONSE CODES
DATA LINK TIMERS.


There is also an extensive GLOSSARY.

Buy it NOW from Amazon.com or search your local Amazon for "HART technology overview"!
---


---
Home
Top of page
---