Romilly's HART® and Fieldbus Web Site
---
HART Technical Overview Booklet
Copyright © Romilly Bowden 1998 - 2006.
---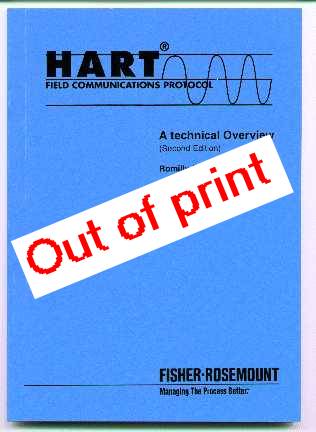 There will be a new edition shortly including HART Revision 6, but it will no longer be free of charge. If you think you may be interested, keep an eye on this page, or e-mail me with the subject "New HART booklet" and I will let you know when it becomes available. It won't tell you everything, but it will give you a good start in understanding how HART works and what you can do with it. (If the automatic mail link from your browser doesn't work, just e-mail me at romilly@romilly.co.uk
News flash, 3 April 2006!!!! I have a few copies left of the older out-of-print edition (for HART rev. 5). If you just can't wait for the new edition, you can have these for £6.90 each plus postage £1.10 to UK, £1.70 to Europe, £2.70 to other overseas destinations. Payment by PayPal (most currencies, credit cards ok) or by sterling cheque (must clear). E-mail me.
---
Please note, there has been some confusion about the size limit for the HART data field. In early printings, the booklet several times mentions 25 bytes, but this must not be regarded as a specified absolute limit. See the HART data field for more information on this.
---
ERRATA: Editions printed between February 2002 and February 2004 may contain an error in figure 3-4. More information ...
---



---
Home
Top of page
Consultancy
---